Projects by Chris Thompson
I've been tinkering with electronics and computers since I was a kid. I recently assembled a complete 40m Amateur Radio Station from scratch, with a 600W amplifier. I have worked over 100 countries with this homebrew station. I have also become active on several of the satellites, rekindling an interest I had from many years ago when my Masters Degree final project was to assemble and automate a ground station for the University of Southampton Department of Electronic Engineering and Computer Science. I volunteered for the AMSAT Fox 1A satellite and have written the ground station software to capture and decode the telemetry.

I've learnt a lot from books and a lot from the internet. This site is my contribution back.
About me
I was first licensed in the mid 80s as Amateur Radio Station G1XCX in the UK, then a couple of years later as G0KLA after passing the 12 words per minute morse code test. I can still remember that testing session vividly. My hand jittered out the letters from the key, I was so nervous. I'm sure I used all of the corrections that I was allowed.
In 2010 I passed the Amateur Extra Exam in the US and have the callsign AC2CZ. I live in Brooklyn, NY but do quite a bit of my operating from another location in Montreal.
The Gateway40 SSB/CW Transceiver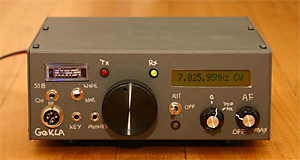 My HF station is almost all homebrew. I enjoy building things more than operating, but I do get on the air and use what I have built. I am currently chasing the paper needed for DXCC using only homemade equipment. You can read about it in my blog.

I'm very open to answering questions about any of my projects. Feel free to contact me on the air or via email: g0kla at arrl dot net

73, Chris