Projects by Chris Thompson
I've been tinkering with electronics and computers since I was a kid. I recently assembled a complete 40m Amateur Radio Station from scratch, with a 600W amplifier. I have worked over 100 countries with this homebrew station. I have also become active on several of the satellites, rekindling an interest I had from many years ago when my Undergraduate Degree final project was to assemble and automate a ground station for the University of Southampton Department of Electronic Engineering and Computer Science. I volunteered for the AMSAT Fox 1A satellite and have written the FoxTelem ground station software to capture and decode the telemetry.

I've learnt a lot from books and a lot from the internet. This site is my contribution back.
About me
I was first licensed in the mid 80s as Amateur Radio Station G1XCX in the UK, then a couple of years later as G0KLA after passing the 12 words per minute morse code test. I can still remember that testing session vividly. My hand jittered out the letters from the key, I was so nervous. I'm sure I used all of the corrections that I was allowed.
In 2010 I passed the Amateur Extra Exam in the US and have the callsign AC2CZ. I live in Brooklyn, NY but do quite a bit of my operating from another location in Montreal.
The Gateway40 SSB/CW Transceiver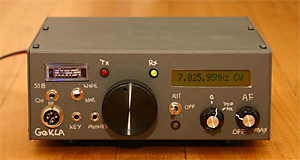 My HF station is almost all homebrew. I enjoy building things more than operating, but I do get on the air and use what I have built. I am currently chasing the paper needed for DXCC using only homemade equipment. You can read about it in my blog, although now that I have reached DXCC with the homebrew station I have built an Elecraft K2 from a kit and started working HF on more bands.



VHF and above
My first love when I was licensed as a kid was 2m SSB. I had an ICOM IC-202 radio, which is sadly lost in my various moves. I can still remember sporadic E opening the band across Europe and hearing HB9 stations booming into southern England. I now have an FT-736R connected to an AZ-EL rotator and 2m/70cm yagis for the satellites. I am soon to be QRV on 23cm (1296MHz) ready for Fox-1Cliff and Fox-1D.
I'm very open to answering questions about any of my projects. Feel free to contact me on the air or via email: g0kla at arrl dot net

73, Chris